Darsilami, The Gambia
| Project data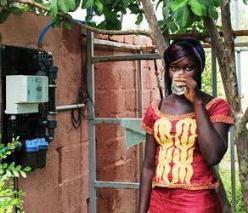 Location of installation:

Darsilami, The Gambia


Supply of:

REMIS Health and
Training Center


In Operation since:

03/2011

Installed system:

SuMeWa|SAFE

Capacity

7.000 Liter per day
| AUTARCON awarded for project in The Gambia
| Progress report - One year the Gambia

Daily up to 7.000 Liter of safe drinking water
In March 2011 a SuMeWa|SYSTEM was installed in the Gambia to treat and supply safe drinking water to the REMIS Health Center. Since more than one year, the system provides daily up to 7.000 Liter of safe drinking water to the local hospital in Darsilami and affiliated training centers.
No maintenance required
Due to the renewable energy supply and chemical-free operation no running costs incurred. Maintenance of the system was not necessary. Only the pump needed be hung a little deeper into the well, as the water table sunk during the dry season.
Full control
The system continuously monitors all operating data. Those are frequently sent to the system operators and to AUTARCON. This way the continuous safe operation of the system can be guaranteed.
"We are astonished about the smooth and simple operation of the system. We are continuously informed about the water quality and feel very safe. Water related diseases have not occurred since the system is in place," confirmed Muhammed Sidibeh, Manager of the Health Center.
Permanent low running costs
Central water and energy supply infrastructures are not existent in Darsilami. The energy autarkic water supply system improved comfort and quality of life for the employees and patients substantially. At the same time running costs and operating expenses were reduced. As no running costs for the system exist it will pay off rapidly.
With the project in the Gambia AUTARCON could impressively demonstrate the applicability of SuMeWa|SYSTEM to assure safe water supply even for hospital purposes.
The AUTARCON-team would like to thank for the support given by the "REMIS Health-Centre Köln Darsilami in the Gambia e.V.", the employees of the health center and the Fraunhofer IWES that made the project possible.
| Related links
Here you will find further information about the project.
Here you will find further information about the in SuMeWa|SYSTEM installed in Darsilami.