Decentralized water purification with SuMeWa - SunMeetsWater
| Integral solutions for water purification
With our SuMeWa|SYSTEM product family we offer individual solutions for the decentralized drinking water disinfection. The required residual disinfectant is produced electrolytically using the natural mineral content of the water. This way the water is constantly kept safe for consumption. Chemicals are not required. In combination with our fully automatized and maintenance free filtration modules, we can react specifically on local conditions and reduce for example iron, manganese or turbidity. An exchange of the filter media is not required.
| How it works
The functional principle of SuMeWa|SYSTEM is described in the following: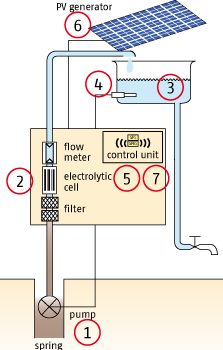 Freshwater is lifted with a submersible pump

A filtration module removes present contaminants

Residual disinfectant is produced by means of anodic oxidation from salts that occur naturally in the water

In the reservoir the disinfected water is safely stored. From here it can be tapped or distributed

The water quality is continuously monitored

Depending on the water quality the control unit adapts the disinfection process and sends optionally all operational parameters online for remote control

Due to the delivered solar photovoltaic modules SuMeWa|SYSTEM operates independent of any infrastructure and works energetically self-sufficient. Batteries are not required
In the left box you will find further information about our units.